Your glasses do more than help you see—they show off your personality. Many people want glasses that complement their face, hair, skin, and eyes.
When visiting your optometrist's office, you have plenty of frames to look at. However, you may not know what to look for.
Consider this your guide to choosing frames that suit your face. Continue reading to learn more about finding frames you'll love to wear.
The Difficulty of Choosing Your Frames
When you're looking at frames, it can feel like there are hundreds of options and brands. You might feel overwhelmed trying to find frames that speak to you. If you're feeling lost, you can make your decision easier by learning how to identify frames suited for your facial features.
You can find good-looking frames by identifying your face shape and matching your options with your eye colour, hair colour, and skin tone.
Identifying Your Face Shape
Before choosing your glasses, you need to identify your face shape. There are several of them, and each one can benefit from different frames. Figuring out your face shape can help you find frames that work with your features.
Some of the most common face shapes include:
Diamond: Someone with a diamond face shape has cheekbones wider than their jaw. You can benefit from oval frames if you have this face shape, softening the edges of your face.
Heart: Someone with a heart-shaped face has an emphasized forehead, narrow cheekbones & a narrow chin. Oval & cat-eye frames are ideal if you have this facial shape.
Oval: Someone with an oval face has a jaw more narrow than their forehead. You can show off your natural lines with round glasses or use angular frames.
Rectangle: A rectangular face has more length than width, featuring broad cheekbones. Rounded frames can soften your features.
Round: Someone with a round face has soft curves & wider cheekbones. Angular frames can add definition if you have this face shape.
Square: A square face has strong, defined features. You can benefit from rounded frames to soften your appearance.
How Can You Determine Your Face Shape?
It's rare for someone to have a perfectly square or round face. However, you can identify what face shape looks closest to yours. There is no official guide when it comes to determining your face shape, but you can get a better idea of your facial structure by asking yourself 3 questions when looking in a mirror:
Are your cheekbones soft or defined?
Is your forehead broad or narrow?
Is your jawline curved or pointed?
Answering these questions can help you determine what face shape is closest to yours. With this knowledge, finding glasses can be easier. Remember, there are no rules on what you can and can't wear—the most important thing is that you feel comfortable in your glasses.
Choosing the best frames for your face doesn't stop at your facial shape. There are a couple of other factors to consider.
Consider the Extra Details
Think about the extra details when finding the right frames to complement your face. Your eye colour, hair colour, and skin tone can help enhance your frames. With help from your optometry team, you can find frames that work with all the aspects of your appearance.
Eye Colour
Your eye colour isn't a deal-breaker when choosing frames because there are so many colours. Whether you have blue, brown, or other coloured eyes, they can range from light to dark shades. Consider choosing frames that help your eye colour pop.
Hair Colour
Your hair colour can be warm or cool, depending on its shade. Golden blond, brown-gold, and brownish-black hair are warm, and blond, platinum, white, auburn, and ash brown hair are cool shades. Consider getting frames that work well with your current hair colour.
Skin Tone
You have a warm or cool skin tone, no matter your skin colour. A cool complexion features pink and blue undertones, and a warm skin tone has yellow or peach undertones.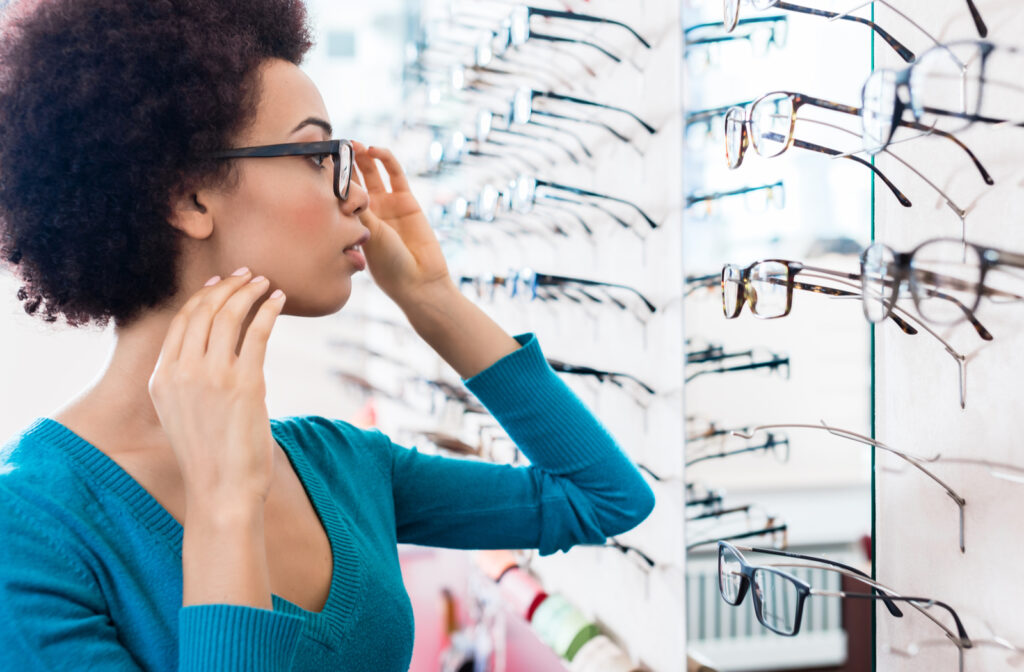 You're Not Alone on Your Glasses Journey
Finding the right pair of frames can seem impossible with so many options. However, there are no "perfect" frames for your needs. This guide can help you narrow down your choices, but the final decision is yours to make.
Everyone has a unique style that suits them, and you should choose frames you feel comfortable and confident with. As long as you feel happy with your choice, you can try something new or similar to your current style.
Remember that you're not alone when choosing your frames—your optometry team is here to help. They have the knowledge and experience to recommend different frames that match your vision preferences while complementing your face.
Contact Chestermere Optometry if you're looking for a new pair of glasses. Our optical team will help find a suitable frame based on your prescription and visual demands.