Eye Exams Are Health Care
Eye care is an essential part of health care as eye exams assess more than your vision. Optometrists can detect many health conditions, including diabetes, high blood pressure, and brain tumours, during routine eye exams. Children's eye exams help monitor visual development, giving your child the best chance for lifelong healthy vision.
So, what can you expect when it's time to schedule your recurring eye care appointment? What types of tests are common, and how much does an eye exam cost? Keep reading to learn about Calgary eye exams!
Vision Care Coverage
Before you step into your optometrist's office, it can help to understand what's covered by Alberta Health Care or your private insurance provider.
Alberta Health Care covers one annual comprehensive eye exam for children (0–18) and seniors (65+). Additional vision care coverage may be decided case-by-case, as Alberta Health Care will cover medically necessary procedures and treatments.
For example, senior coverage usually extends to diabetes, cataracts, and glaucoma evaluations or treatment.
Alberta Health care does not cover eye exams for adults (ages 19–64), but the provincial vision care coverage will cover medically necessary services. Additionally, many Albertans have insurance coverage through a private medical plan or an employer. Patients should check their coverage for vision care details.
What Is Medically Necessary?
Although Alberta Health Care doesn't cover routine assessments for adults, Albertans can receive vision coverage for medically necessary services. Children and seniors can also receive additional coverage for anything considered medically necessary.
But what is medically necessary?
Optometrists have the training, tools, and equipment to diagnose and treat specific issues. If you're unsure if your eye problem is covered, contact your optometrist before your appointment.
Examples of medically necessary eye care include:
Eye infections or injuries
Foreign objects in the eye(s)
Monitoring for eye disease (glaucoma, retinal disease)
Post-operative care for cataract patients
Sudden vision changes
What Does an Eye Exam Cost in Calgary?
The cost of an eye exam depends on various factors, including:
How much is covered by Alberta Health Care
How much is covered by private or employer insurance
What tests are performed or services are provided
The cost can also depend on whether you need glasses or contact lenses. The optometry office you visit may offer unique pricing or deals combining the cost of eyewear and an eye exam.
A routine comprehensive eye exam in Calgary usually ranges between $75–140.
Comprehensive Eye Exam Tests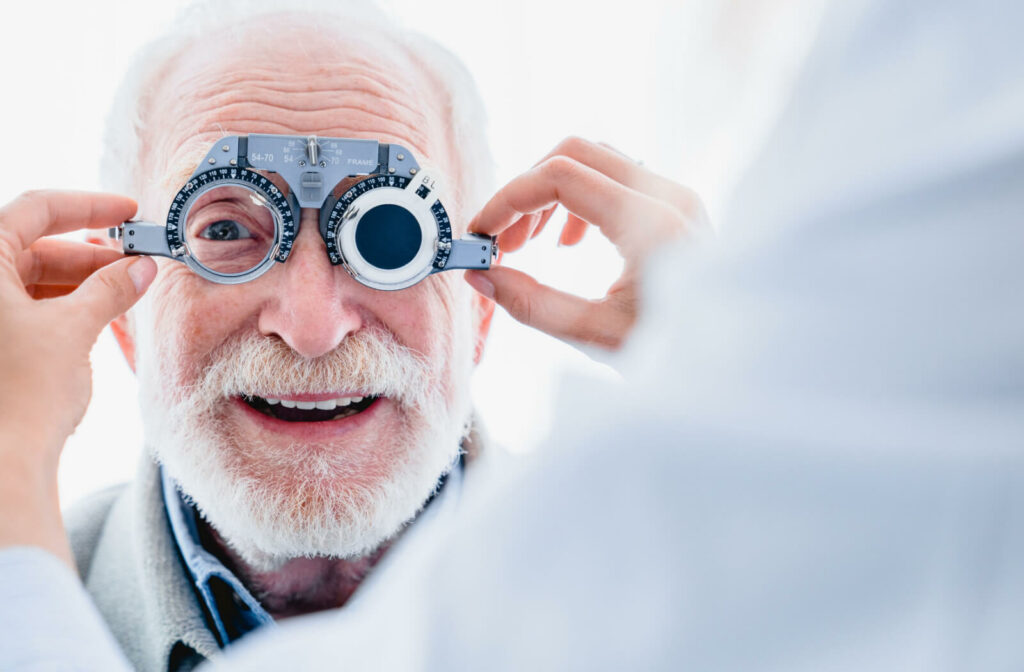 A routine eye exam consists of multiple tests (each about 5–10 minutes), with most appointments completed within one hour. While additional tests can add to the overall cost of your eye exam, each serves a unique diagnostic purpose.
The assessments performed vary depending on the patient's needs, such as symptoms, patient concerns, and medical history. Some common evaluations included in comprehensive eye exams include:
Case history review (medical history, family history, past vision issues)
Colour vision evaluation
Eye movements & eye teaming (binocular vision, eye coordination, depth perception, & hand-eye coordination)
Eye health assessment (internal & external eye tissue)
Glaucoma screening & intraocular eye pressure testing
Neurological evaluation of the visual system
Refractive status & prescription assessment
Visual acuity measurement of both eyes (individually & together)
The instruments and equipment used for testing can also vary. Some instruments you're likely to see include the following:
Learn More from Your Optometrist
Eye exams are crucial for protecting your health and supporting your vision needs. Updating a glasses or contact lens prescription is only one reason to schedule regular checkups with your optometrist. Eye exams can support lifelong eye care by managing visual comfort or diagnosing eye diseases.
Your optometrist is also an educational resource. When you have questions or concerns about your vision or eye health, your optometrist can answer them. Eye exams help your eye care team get to know you and your visual needs so they can personalize your care.
At Chestermere Optometry, our focus on holistic eye care ensures you receive quality care based on your health and lifestyle. We take the time to get to know your needs to provide comprehensive solutions for you and your family. Book an appointment with our team today!